Alycia T. Dickens, DNP, FNP-BC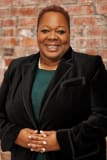 (she/her)
Dr. Alycia T. Dickens is a recognized leader in the field of HIV/AIDS. She is a Family Nurse Practitioner, Community Educator and Advocate. She completed Bachelor's and a Master's Degrees in Science at Hampton University. While at Hampton University I was inducted into the Sigma Theta Tau International Honor Society for Nurses. She subsequently earned Clinical Doctorate/Doctor of Nursing Practice (DNP) from Duke University in May2012
Her research interests over the years have included HIV High-Risk Behaviors in Women and health literacy, of which she has a published article in the Journal of Nursing Education and Practice. 
She also had the great privilege to present her doctoral work at the 2nd Annual Nursing Science Conference in London, England. Regarding her clinical nursing experience, she has worked in General Rehabilitation at Virginia Commonwealth University (VCU/MCV) in Richmond, in mental health, home health care and women's health. She has also taught both undergraduate and graduate level nursing courses at Hampton University, Norfolk State and George Washington University.
She was a charter member and one of the past Presidents of The First Virginia Chapter of the Association of Nurses in AIDS Care (ANAC) in Norfolk, Virginia. She worked as the Infectious Disease and Liver Transplant Coordinator at the Hampton Veterans Affairs Medical Center in Hampton, Virginia for more than 11 years. She also worked as a Nurse Practitioner at the Infectious Disease Clinic at Eastern Virginia Medical School. She is currently the Nurse Practitioner at the local CAN Community Health Care Center in Norfolk.
---